Card Catalogue of Literary Terms in Slovenian Periodicals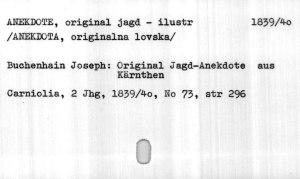 Period of creating

since 1964

Caretaker

Profession

Literature and Literary studies
content
The catalogue includes records of terms from literary studies and related areas (especially the philosophy of art, literary sociology, psychology, criticism, and general cultural journalism) that gradually appeared and took hold in Slovenian periodicals from 1770 to 1970. The records are arranged chronologically within the alphabetical card catalogue. Each record includes bibliographic information about the source from which the term is taken and is categorized according to the extent and importance of its use. The catalogue's collected material has served as a basis for terminological and theoretical research and for publications in the series Literarni leksikon (Lexicon of Literature). More information on the creation, goals, arrangement, and limits of the catalogue is available in: Darko Dolinar, Kartoteka tujih avtorjev in slovenskih literarnoteoretičnih terminov [Card Catalogue of Foreign Authors and Slovenian Literary Terms], Primerjalna književnost, 6, 1983, no. 1, pp. 62–67.
The catalogue is available to users of the
institute's library Monday through Friday, 11 am to 1 pm
.
Contact person: Alenka Koron, PhD.