Card Catalogue of Foreign Authors in Slovenian Periodicals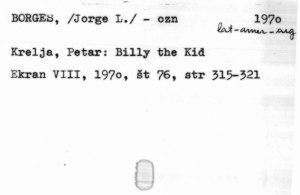 Period of creating

since 1964

Caretaker

Profession

Literature and Literary studies
content
The catalogue covers foreign authors of literature and some related areas (e.g., philosophy, philology, history, etc.) in Slovenian and foreign-language periodicals from the territory of present-day Slovenia from 1770 to 1970. The records in the catalogue are arranged in alphabetical and chronological order by author for each national literature. Each record includes bibliographic information on the item and is categorized according to the size and importance of the item. The catalogue thus offers a perspective on the presence of an individual author or national literature in Slovenian periodicals from this period and contains more information than can be contained in bibliographies. The documentation collected here, which together with the catalogue of literary terms comprises approximately 400,000 cards, makes the catalogue a point of departure for research in comparative literary history and it also served as the basis for some publications in the collection series Literarni leksikon (Lexicon of Literature). More information on the creation, goals, arrangement, and limits of the catalogue is available in: Darko Dolinar, Kartoteka tujih avtorjev in slovenskih literarnoteoretičnih terminov [Card Catalogue of Foreign Authors and Slovenian Literary Terms], Primerjalna književnost, 6, 1983, no. 1, pp. 62–67.
The catalogue is available to users
of the
institute's library Monday through Friday, 11 am to 1 pm
.
 
Contact person: Alenka Koron, PhD.