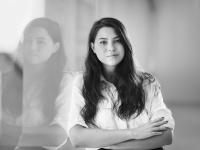 Assistant Researcher at the Institute of Slovenian Literature and Literary Studies, Research Centre of the Slovenian Academy of Sciences and Arts.
Phone. lab.:
E-mail:
Links:
Research interests
Lucija Mandić's research interests include Slovenian literature of the nineteenth and twentieth centuries, West Slavic literatures, neo-avant-garde literature, cultural nationalism and cultural transfers.
Curriculum Vitae
Lucija Mandić was born in 1994 in Ljubljana. After graduating from the Secondary School of Design and Photography in Ljubljana, she studied Slovenian and Comparative literature at the Faculty of Arts, University of Ljubljana, where she graduated in 2017 with the BA thesis Comparison of Prešeren's Baptism at the Savica and Mácha's May in the Context of National Revival (supervised by Aleksander Bjelčevič and Vid Snoj). She continued her studies at both departments at graduate level and graduated in 2020 with the MA thesis 'I am provoking, because politics have devoured literature.' Theory and Literature in Slovene and Czechoslovak Student Periodicals in 1968 in the Case of Tribuna and Student (supervised by Marko Juvan and Vanesa Matajc). In 2020, she became a doctoral student at the Postgraduate School ZRC SAZU (module 'Literature in Context') to work on a dissertation on a distant reading of the Slovenian novel.
Research areas
General and comparative literature, literary criticism, literary theory H390
Keywords
Slovenian literature • comparative literature • narratology • digital humanities