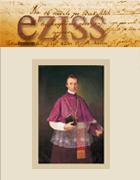 Title:
Author:
Other authors:
Year:
Compilation:
Keywords:
Language(s):
Description
Tri pridige o jeziku A. M. Slomška so nastale v času od leta 1825 do 1841. Dve od izbranih treh besedil sta ohranjeni v avtorjevem rokopisu. Rokopis tretjega besedila, ki je najbolj znano, je izgubljen, a kmalu po nastanku dvakrat natisnjen, nato je bila znamenita pridiga večkrat delno objavljena in citirana. Vsa tri besedila povezuje v celoto skupna tematika. Besedila so govornikove predloge za pridiganje, formulirane v celoti kot dokončno besedilo, torej literarnozvrstno verski govor, točneje pridiga oziroma t.i. retorska proza.
Anton Martin Slomšek (1800–1862), Slovenian bishop, author, promoter of Slovenian culture, especially distinguished for reviving Slovenian national identity in eastern Slovenia and Carinthia. Pope John Paul II. beatified him in 1999.
The Three Sermons on Language by A. M. Slomšek were written between 1825 and 1841. Two of the texts are preserved in the author's manuscript. The manuscript of the third, best known text, has been lost, but was published twice soon after it had been written and was subsequently often cited and published in part. The three texts are linked by their common theme. The texts are the speaker's notes for sermons, formulated entirely as complete text, thus belonging to the literary genre of religious oration, more precisely sermon or rhetorical prose.
The electronic edition comprizes a foreword, facsimiles, diplomatic and critical transcriptions, and editorial notes. Each transcription is linked to the facsimiles, and the two transcriptions are aligned at the level of lines. This enables the parallel display of facsimile and each transcription, and the parallel display of facsimile and both transcriptions. Slomšek's references to biblical sources in the margins of the sermons are linked to the Web portal Biblija.net, where his translation of biblical fragments can be compared with the translations of the Bible into Slovene.
Publishing House
Založba ZRC
ISBN
961-6500-64-3
Specifications
internet publication • html