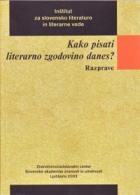 Title:
Edited by:
Year:
Keywords:
Language(s):
Description
Razprave v tej knjigi razvijajo teoretične diskurze, oprte na splošno stanje sodobne evropsko-ameriške literarne vede in na nekatere njene kontekste v obči znanstveni teoriji in metodologiji, v filozofiji in še posebej v humanističnih vedah; sklicujejo in navezujejo se na prakse literarnozgodovinskega raziskovanja in pisanja, seveda predvsem na slovensko, med drugimi (glede na izvor sodelavcev) pa še posebej na srednjeevropske. Avtorje druži izhodiščno stališče, da je zgodovinsko obravnavanje literature danes sicer res z mnogih vidikov problematično, a vendar mogoče in s spoznavnega vidika relevantno, če ne celo nujno.
Postmodernism has cast radical doubts on the objectivity of history, while demanding historicization from all modes of knowledge. Reflection on historicity has thus become a crux of the humanities in general. The volume joins the emerging field of literary metahistory. Scholars from Central Europe critically apply the perspectives of hermeneutics, reception esthetics, poststructuralism, new historicism, cognitivism, systems approaches, dialogical comparatistics, Slavic studies, critical narratology, and cultural and gender studies in order to answer how, on what epistemological bases, with what goals, and for which audiences it is still possible to write literary history that meets contemporary scholarly standards without sacrificing the specificity of its research object and methods.
Contributors: Vladimir Biti, Silvija Borovnik, Darko Dolinar, Marijan Dović, Marko Juvan, Jelka Kernev Štrajn, Alenka Koron, Janko Kos, Lado Kralj, Marija Mitrović, Vladimír Papoušek, Ivo Pospíšil, Janez Strutz, Jola Škulj, Bożena Tokarz, Ivan Verč, Peter Zajac, Miloš Zelenka, Peter V. Zima.
Publishing House
Založba ZRC
ISBN
961-6358-82-0
Specifications
paperback • 15 × 21 cm • 394 pages