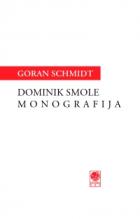 Title:
Author:
Year:
Compilation:
Keywords:
Language(s):
Description
Dominik Smole je bil eden najpomembnejših dramatikov in pisateljev v povojni Sloveniji. Monografija G. Schmidta prikazuje njegovo življenje in delo z več perspektiv: njegovo biografijo nadaljuje prikaz recepcije Smoletovih dramskih in proznih besedil, nato pregled vplivov na njegovo literarno delo, psihološke značilnosti njegovih literarnih likov ter dramaturgija Smoletovih dramskih tekstov. Schmidt sklene knjigo s poglavjem o vrednotenju avtorja Antigone, nemara ene najpomembnejših slovenskih dram.
Dominik Smole (1929–1992) was one of the central literary personalities in Slovenian cultural and political life during the 1950s and 60s. His leftist orientation as a secondary-school student during the 1941–1945 Italian and German occupation won him the political affection of the postwar communist authorities. With his low social background (his father was a janitor) and his inborn exceptional ear for language, as well as his friendships with contemporary writers, the sons of important politicians and cultural figures from the bourgeois intelligentsia, he was the very model of a communist artist, for whom the revolution removed all social obstacles and allowed his talent full sway. In the company of his friends, he especially became familiar with the basic trends in French atheist existentialism. He read Slovenian translations of Kafka and the Russian realists, especially Dostoyevsky. However, what attracted him most was the fin-de-siècle symbolist and neo-romantic literature by the greatest Slovenian writer, Ivan Cankar. At the time of postwar realism, including socialist realism, Smole's writing was modernist, which was precisely what the authorities required in their battle against clericalism: from 1947 to 1960, he received four awards for his plays and prose, or practically for everything that he wrote; later on, under somewhat sensitive circumstances, he also became the coeditor of the cultural and political journal Perspektive (Perspectives) and remained in this position for several years.
His early creative period reached its peak in 1960 with Antigona (Antigone), one of the many versions that have been created in Europe in the last four centuries based on the ancient story. Due to their thematization of the relationship between the individual and the authorities, they were especially common in the communist countries. Smole's version is special in that the main character, Antigone, does not even appear in the story. Due to its poetic power and the political circumstances, its premiere became a myth; it was preserved as a ritual event in the memory of emotionally engaged individuals and bore the playwright's name throughout Yugoslavia. None of his later plays, especially Krst pri Savici (Baptism on the Savica), which continues the story of the most famous Slovenian romantic artistic epic by France Prešeren, could repeat the success of Antigona. In 1986, he received the Prešeren Award for lifetime achievement, the highest Slovenian decoration for artistic achievement.
Smole grew up under extremely difficult circumstances. After failing to complete high school, he was self-taught and supported himself. He worked slowly, lived the life of a bohemian, and, despite his good ear for language, he did not have a talent for writing dramatic stories, which is why he had to draw on his own intuition and use borrowed story lines. After the success of Antigona, he increasingly wrote about his inner world, which was sinking into misanthropy and ideological nihilism. He developed a special illogical dramaturgy in order to lead his plays to their envisaged concluding idea. This illogical structure met with various reactions from the public, critics, literary historians, and theorists, ranging from excited panegyrics to astounded rejection; it allowed various political interpretations and even misuses, especially in the case of Antigona—mostly during the Catholic/capitalist restoration of Slovenia following 1991, although even at its premiere the reaction to the play was not completely unambiguous.
During the 1950s and 60s, Smole's works showed the way to several young writers; he tested the limits of literary design, conceptual apolitical elements, and metaphorical political aspects; his unusual dramaturgy demanded a reconsideration of theater staging methods. With these types of innovations and special features, he contributed to the modernization of Slovenian literature and theater; Antigona marked the onset of the heyday of poetic drama in Slovenia. Smole was also an important manager and artistic director of the Ljubljana Youth Theater from 1972 to 1976. He managed to shift it from the esthetic margin and develop it into an outstanding acting ensemble, which his successors made known not only to all of Yugoslavia but also the rest of the world.
Historical and psychological methods were used for this volume, which means that it takes into account the sociopolitical context and the writer's personality. The form and content of the works are evaluated using dramaturgical analysis.
Table of content
Čas Dominika Smoleta
Mit Smoleta
Vplivi na slovstveno delo Dominika Smoleta
Psihološke značilnosti Smoletovih literarnih likov
Dramaturgija Smoleta
Pomen literarnega dela Dominika Smoleta
Filozofija Smoleta
Povzetek
Summary
Kazalo osebnih imen
Kazalo slikovnega gradiva
Kazalo
Publishing House
Založba ZRC
ISBN
978-961-254-283-2
Specifications
hardback • 14 × 20,5 cm • 540 pages
Price
43,00 EUR (Regular)
36,00 EUR (Club)