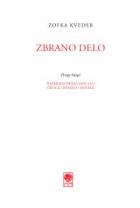 Title:
Author:
Other authors:
Year:
Compilation:
Keywords:
Language(s):
Description
Druga knjiga Zbranega dela Zofke Kveder prinaša pripovedno prozo, ki sodi v pisateljičino ustvarjalno najbolj intenzivno obdobje (1898–1903), ko je ob treh proznih zbirkah objavila tudi izjemno veliko število črtic, povesti in novel v dnevnem časopisju, revialnem tisku in almanahih (Slovenka, Ljubljanski zvon, Dom in svet, Edinost, Prvi majnik, Rdeči prapor, Ilustrovani narodni koledar, Nova nada in sarajevska Nada). Večina teh besedil po izidu ni bila več objavljena, zato druga knjiga Zbranega dela Zofke Kveder razkriva žanrsko raznoliko in motivno izjemno bogato prozo, ki je pomemben prispevek k leposlovju slovenske moderne.
The second volume of Zofka Kveder's Collected Works features narrative prose, which belongs to the writer's creatively most intense period (1898–1903), when, in addition to three prose collections, she also published an exceptional number of sketches, short stories, and novellas in newspapers, magazines, and almanacs. The majority of these texts were never reprinted, and so the second volume of Kveder's collected works reveals a prose that is diverse in genre and exceptionally thematically rich, and hence an important contribution to Slovenian modernist fiction.
The settings used are also unusual for Slovenian literature up until that time. The writer's stories are set in the countryside as well as in Ljubljana, Trieste, Zagreb, Vienna, Bern, Zürich, and Prague. Even though the publications of these narrative texts remained largely without any critical responses, the second volume of Kveder's Zbrano delo is accompanied by critical commentary, which—apart from the rare but interesting reactions to Kveder's publications in periodicals expressed by her female contemporaries—provides information on how the works were created, their special historical features, and the editorial changes to the author's texts.
Publishing House
Založba ZRC
ISBN
978-961-254-228-3
Specifications
hardback • 14 × 20,5 cm • 838 pages
Price
35,00 EUR (Regular)
27,00 EUR (Club)