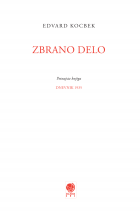 Title:
Author:
Other authors:
Year:
Compilation:
Keywords:
Language(s):
Description
V petnajsti knjigi se nadaljuje objava Kocbekovega dnevnika iz leta 1935. Leto 1935 je Kocbek še vedno preživel v Varaždinu; veliko energije mu je jemalo delo v šoli, še več časa pa je nemara posvečal študiju in branju. Skušal je biti na tekočem s sodobno literaturo, tako z leposlovjem kakor s filozofijo. Čedalje določneje se je v Kocbeku izrisovalo temeljno nasprotje njegove zrele dobe: na eni strani krščanstvo, »metafizična religija«, na drugi težnje po revolucionarni preosnovi življenja »z revolucionarnim aktom«, toda ne s »primitivnim in totalnim«. Prav tako je bilo leto 1935 za Kocbeka pomembno zato, ker se je poročil z Zdravko Koprivnjak. Dnevnik poroča o zapisovalčevem dolgotrajnem spopadanju z »nepremagljivim Erosom« oz. njegovim iskanjem polnega »telesno-duhovnega skladja«, kot ga je pričakoval od zveze z žensko. Takšno skladje je našel v svoji nagnjenosti do Zdravke, s katero je 23. decembra 1935 v Varaždinu stopil pred oltar: drug drugemu sta ostala zvesta do smrti.
This fifteenth volume continues the series with Kocbek's 1935 diary.  As Kocbek himself admitted, for him his diary was "an especially live type of artistic testimony, in which rational and irrational components, the document and vision, life engagement, and intuitive transcendence of the historical and geographical situation merge as freely as nowhere else"; he therefore considered it one of the most important parts of his life work.
In 1935, Kocbek was still living in Varaždin; his work as a schoolteacher took up most of his energy, but most likely he dedicated even more of his time to studying and reading. He tried to keep abreast of contemporary literature, both fiction and philosophy. The fundamental conflict of his mature period began to increasingly come to the fore: between Christianity and "metaphysical religion" on the one hand, and the tendencies to transform life in a revolutionary manner "through a revolutionary act," albeit not a "primitive and total" one, on the other.
The year 1935 was also important for Kocbek because that was when he married Zdravka Koprivnjak. The diary reports on the author's long-term struggle with "invincible Eros" or his search for the perfect "physical-spiritual harmony" that he expected from a relationship with a woman. He found such harmony in his affinity for Zdravka, whom he married on December 23rd, 1935 in Varaždin: they remained faithful to each other until death.
Publishing House
Založba ZRC
ISBN
978-961-254-717-2
Specifications
hardback • 14 × 20,5 cm • 222 pages
Price
32,00 EUR (Regular)
27,00 EUR (Club)