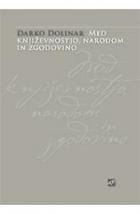 Title:
Author:
Year:
Keywords:
Language(s):
Description
The book Med književnostjo, narodom in zgodovino (Between Literature, Nation, and History) is about older Slovenian literary studies from approximately the middle of the 19th to the middle of the 20th centuries, when the main roles within it were played by the categories of history and nation, and when it was understood and functioned as a historical and national discipline. The book extends into modern times only in certain places, when important theoretical and methodological changes occurred that advanced the discipline. Thus, the limited chronological framework considerably ensures the unity of the subject discussed. In addition, this unity is also ensured by its conceptual limitation to Slovenian territory; this, however, is not exclusive, but is constantly accompanied by the idea of the broader European context. Without wishing to define the nature and scope of Slovenian literary studies in advance, this discipline is nonetheless understood with a focus on the historical treatment of Slovenian literature and related general literary studies.
The areas and phenomena selected are highlighted from several complementary aspects. The inner structure of the discipline is addressed by studies defining its subject field and the appropriate selection of prevailing methods. The issue of institutional foundations is highlighted by presenting the establishment of the most important institution for the discipline during this period – the University of Ljubljana – as well as the organization of literary studies at the university and the first specialized academic journal. This is followed by discussions of certain central personalities with an emphasis on their basic ideas. Synchronic reviews of the issue based on selected examples are presented in chronological order, presenting the central intertwined developmental lines of the whole. These include the emantipation of literary studies from the framework of philology, the independence of Slovenian studies from the framework of general Slavic studies, the constitution of the discipline in line with contemporary recognized scholarly criteria, and the self-understanding and functioning of the discipline as one of the main national disciplines. More detailed summaries of each chapter are given below.
Publishing Houses
Založba ZRC • Celjska Mohorjeva družba, d. o. o.
ISBN
978-961-218-699-9 (Celjska Mohorjeva družba)
Specifications
paperback • 16,5 × 23,5 cm • 336 pages
Price
25,00 EUR (Regular); for sale in the bookshop Azil